Oven (electric)
Question Topic
Oven (electric) Circuit Breaker Issues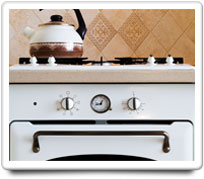 Home-Wizard™ calculates your ideal home care program to avoid problems with your Oven (electric), but sometimes trouble can still occur. Here are answers to questions about oven (electric) circuit breaker issues.

QUESTION FROM Joan Lucas Jordan
My electric oven stopped working. How do I know if it the element or the computer module?
---

ANSWER FROM HOME-WIZARD
Dear Joan:

Have you checked to see if the circuit breaker or fuse has tripped for your oven? If you already have, then what model oven do you have?

Home-Wizard.com

FOLLOW-UP FROM Joan
Thanks! Yes, we checked the circuit breaker. The oven is a Magic Chef Model #59FN 5 T VW. Installed in 1991.
---

ANSWER FROM HOME-WIZARD
Dear Joan:

I could not find any information on the model number you provided. Is your oven an electric unit or is it gas? Also, if it helps, here is the toll-free customer service 800-688-1120 for Magic Chef.

Home-Wizard.com