Automatic Sprinklers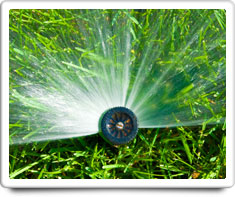 Automatic Sprinklers provide water to your lawn and shrubs on a regular basis based on how you program the cycles to run.

An Automatic Sprinkler system consists of a network of underground piping, sprinkler heads, electronic control valves, and a control panel box with a programmable timer that controls when each of the electronic control valves open and close.
See also: Lawn & Landscaping.
Shown in the 'Routine Care' section are the recommended routine maintenance tasks for your automatic sprinklers. The 'Q & A' section shows answers to common questions. And the 'Articles' section provides helpful articles about your automatic sprinklers.